MILLER AND LENTS EXPERIENCE
Delivering Results Around the World
Our highly trained professionals have deep expertise in virtually every petroleum-producing basin in the world and the upstream petroleum industry. Many of our client relationships have spanned several decades and extend around the globe. Yet we are equally adept at short-term domestic work and long-term international assignments. We serve oil companies, gas transmission companies, manufacturers, chemical companies, financial institutions, and law firms of all sizes with expert consulting services.
Trust Miller and Lents' proven experience – wherever and whenever your next project may be.
Global Clients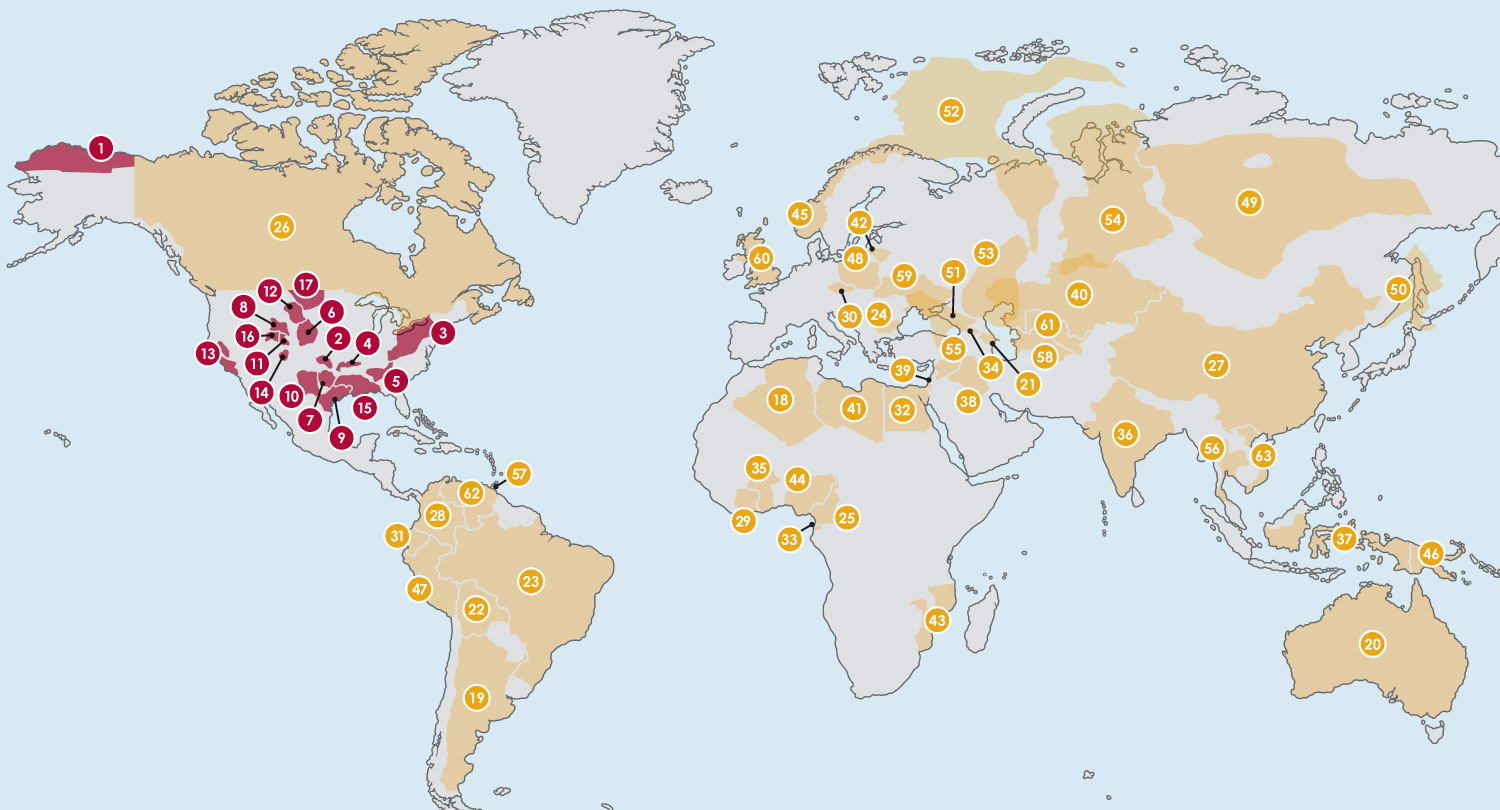 UNITED STATES
Alaska North Slope Fields
Anadarko Basin
Appalachian Basin
Arkoma Basin
Black Warrior Basin
Denver Julesburg Basin
Fort Worth Basin
Greater Green River Basin
Gulf Coast Basin
Permian Basin
Piceance Basin
Powder River Basin
San Joaquin Basin
San Juan Basin
Texas-Louisiana Salt Basin
Uinta Basin
Williston Basin
Algeria
Argentina
Australia
Azerbaijan
Bolivia
Brazil
Bulgaria
Cameroon
Canada
China
Colombia
Cote d'Ivoire (Ivory Coast)
Czech Republic
Ecuador
Egypt
Equatorial Guinea
Georgia
Ghana
India
Indonesia
Iraq
Israel
Kazakhstan
Libya
Lithuania
Mozambique
Nigeria
Norway
Papua New Guinea
Peru
Poland
Russia* — East Siberia
Russia* — Far East
Russia* — North Caucasus
Russia* — Northwest & Arctic
Russia* — Volga-Urals
Russia* — West Siberia
Syria
Thailand
Trinidad and Tobago
Turkmenistan
Ukraine
United Kingdom
Uzbekistan
Venezuela
Vietnam
* Miller and Lents has evaluated over 2,000 fields in the Russian Federation.
"Miller and Lents has proved to be a reliable business partner with undoubted professionalism and experience."
— Ms. Irina Aleksandrovna Shaytarova, Head of Asset Evaluation, Block of Strategic Development, PJSC LUKOIL